Leaders in Building Information Modeling
DesignCell started using BIM in 2009 and by 2013 all of our projects were being designed in Revit. We were on the leading edge of adopting the software and now have over a decade of experience.
BIM is a coordinated set of processes that add value by creating, managing and sharing the properties of an asset throughout its life-cycle. BIM is capable of carrying all information related to the building, including its physical and functional characteristics and project lifecycle information, in a series of "smart parametric objects".
Project Managers and team consultants will enjoy the benefits of better resolved solutions, reduced waste, both in time and in materials, faster project delivery, and reduced issues during construction.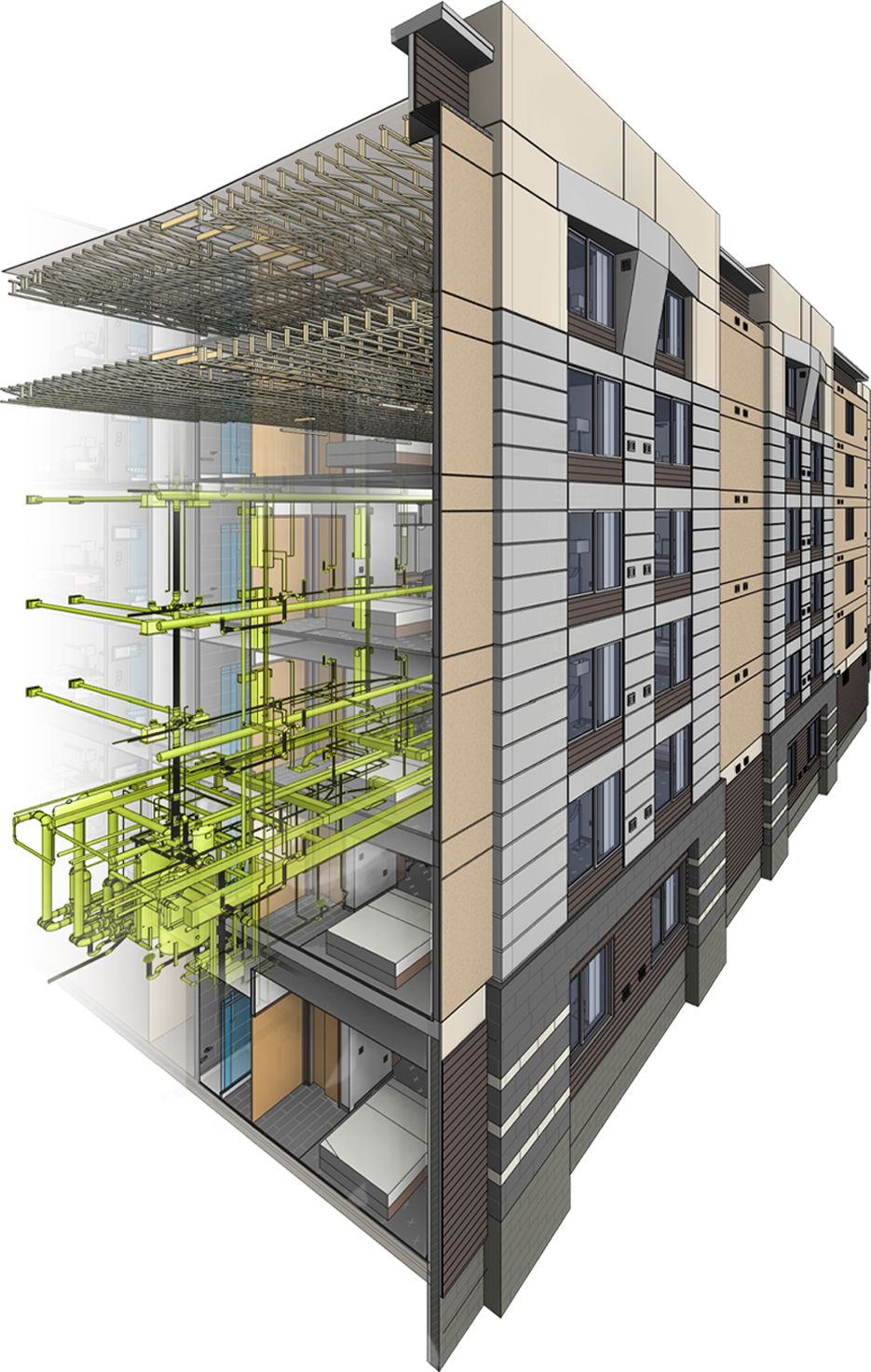 Better outcomes through collaboration
All of our consultants use a single central workplace allowing all collaborators access and work on the projects instantly from various locations. Different building's models (architectural, structural, MEP, landscape) are interlinked enabling all contractors to monitor and respond to any design changes in real time.
Reduced construction changes
Integrating multidisciplinary design inputs using a single environment stored online allows coordination issues to be identified and resolved in advance of construction, eliminating the cost and time impacts of re-design.
Effective and accurate design
Autodesk Revit offers the most efficient approach to architectural design nowadays providing accurate construction drawings based on a shared 3D model and reducing a possibility of errors.
Greater predictability
Projects are "built" in a virtual environment and can be visualized at an early stage, giving owners and operators a clear idea of design intent and allowing them to modify the design to achieve the outcomes they want.
Enhanced performance
BIM makes it possible to have a swift and accurate comparison of different design options, enabling development of more effcient, cost-effective and sustainable solutions.
Faster cost estimates
Fast and accurate quantity take-offs and live schedules enable more efficient project valuation / bidding process.
Optimized reuse of the elements
Designing guest rooms as separate link files allows us to save time and efforts when working on various hotels of the same brand.
Whole life asset management
BIM models can be developed to contain product information that assists with operation and maintenance activities throughout the life-cycle of the building.
PROJECT LIFE CYCLE USING BIM
Design Development
Construction
Documentation
Clash
Detection
Autodesk
Build
Schedule
Construction Logistics
Site Visits
Operation &
Maintenance
Design Development
Construction
Documentation
Clash
Detection
Autodesk
Build
Schedule
Construction Logistics
Site Visits
Operation &
Maintenance