DesignCell is a Full-Service Architectural Design Firm. Based in Las Vegas, Nevada our project experience extends to most western states, with the ability to get licensed in all. The firm uses advanced tools and software that reduce the time and cost impacts of re-design. Speed to market is a priority with offices in Las Vegas, Lithuania and Scottsdale working day and night to keep your project moving. DesignCell aims to achieve the balance between your vision and budget.
Our Promise
Accuracy: Detailed 3d Revit modeling and clash detection processes result in higher quality and coordination of the drawings.
Speed: Projects move quickly by utilizing offices at opposite ends of the globe, fast response time & cloud-based technology.
Keeping Costs Low: Our expertise in mid-rise wood construction help with cost-saving measures and reduced construction change orders.
Smoother Construction Phase: Upfront quality assurance and assistance during construction will save time and headaches on the job site.

People-focused
By building a team of highly talented individuals and treating them exceptional, we guarantee they will put their best foot forward for you. Our brand depends on developing close lasting relationships with clients, associates, and partners.

Brand-focused
Designing innovative properties that work for today's demands. Our highly talented, experienced team will work diligently to elevate your brand while our interior designers work hand-in-hand with our project teams to marry function and design. Together, we create design that encompasses your unique style while remaining functional for your business.

Quality-focused
Advanced tools and processes deliver projects faster while ensuring quality and eliminating the time and cost of redesign. Our experienced architects provide the highest quality construction documents, ensuring faster development time so you can open sooner.

Budget-focused
We balance budget and vision to bring your project to life and provide an optimal experience and investment. Our experienced architects understand that you want to get highest quality possible within your budget to make it a good investment.
BIM - Building Information Modeling
BIM is a coordinated set of processes that add value by creating, managing and sharing the properties of an asset throughout its life-cycle. BIM is capable of carrying all information related to the building, including its physical and functional characteristics and project lifecycle information, in a series of "smart parametric objects".
Hilton Project Managers and our team consultants will enjoy the benefts of better resolved solutions, reduced waste both in time and in materials, faster project delivery, and reduced issues during construction.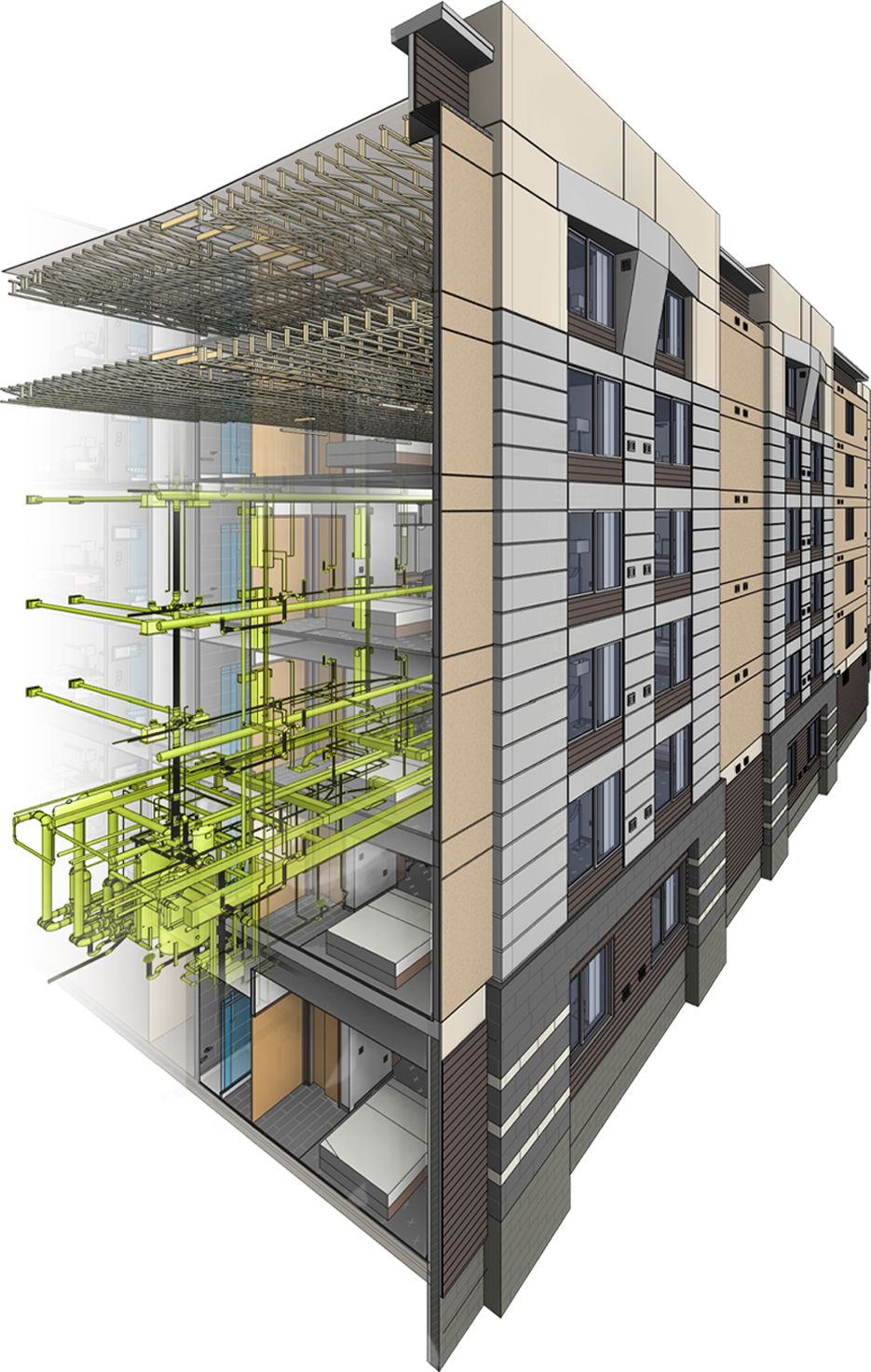 Better outcomes through collaboration
All of our consultants use a single central workplace allowing all collaborators access and work on the projects instantly from various locations. Different building's models (architectural, structural, MEP, landscape) are interlinked enabling all contractors to monitor and respond to any design changes in real time.
Reduced construction changes
Integrating multidisciplinary design inputs using a single environment stored online allows coordination issues to be identified and resolved in advance of construction, eliminating the cost and time impacts of re-design.
Effective and accurate design
Autodesk Revit offers the most efficient approach to architectural design nowadays providing accurate construction drawings based on a shared 3D model and reducing a possibility of errors.
Greater predictability
Projects are "built" in a virtual environment and can be visualized at an early stage, giving owners and operators a clear idea of design intent and allowing them to modify the design to achieve the outcomes they want.
Enhanced performance
BIM makes it possible to have a swift and accurate comparison of different design options, enabling development of more effcient, cost-effective and sustainable solutions.
Faster cost estimates
Fast and accurate quantity take-offs and live schedules enable more efficient project valuation / bidding process.
Optimized reuse of the elements
Designing guestrooms as separate link files allows us to save time and efforts when working on various hotels of the same brand.
Whole life asset management
BIM models can be developed to contain product information that assists with operation and maintenance activities throughout the life-cycle of the building.
States In Which We Are Licensed
Our project experience extends to most western states, with the ability to get licensed in all. We have designed over 250 projects with 47 Hotels opened.
Increased speed to market
With offices in Las Vegas, Nevada and Vilnius, Lithuania, our teams literally work day and night to get your project moving.
We Offer
• Pre-Construction Services
• Work hand in hand with developers and local planning departments to get the zoning approved
• Navigate complex entitlement processes and environmental requirements
• Site and Urban Planning
• Concept to Completion Design
• Provide Local Contacts in Multiple Markets
• Full Spectrum Construction Administration Services
• Neighborhood Relations
• Code Compliance
• Cutting Edge Technology
• Reduced Change Orders
In-house Services
• Sustainable Design (LEED)
• Preliminary Design/Research/Due Diligence
• Programming/Design Charrettes
• Revit/3-D Modeling/Building Information Modeling
• Conceptual Design
• Site Planning
• Schematic Design
• Design Development
• Construction Documents
• Specifications
• Bidding/Contract Documents
• Construction Administration
• Master Planning