Sustainable Home2Suites by Hilton in Las Vegas Breaks Ground
February 09, 2022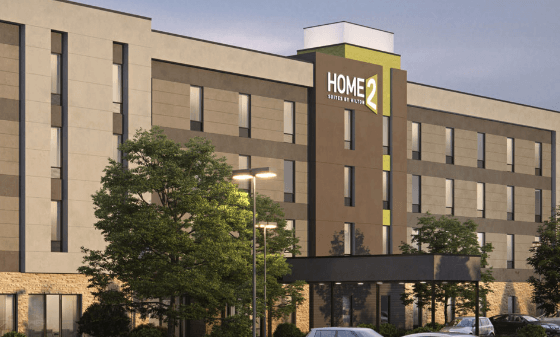 DesignCell Architecture is excited to announce the groundbreaking of the new Home2Suites by Hilton in Las Vegas, Nevada. Our project team has worked closely with our client, United Brothers Hospitality Group, and GRN Vision, a consulting firm dedicated to delivering high performance green buildings and corporate sustainability plans, to ensure a sustainable design.
"We are happy to announce that the project is on track to achieve Two Green Globes certification (equivalent to LEED Silver) for New Construction," said Scott Brown. "We are proud to bring this sustainable design to our partners at Hilton and to be a part of this collaborative process."
The 4-story, 57,000 square foot hotel, located at East Craig and North Lamb Boulevard, will feature 91 guest suites with all of the comforts of home, including well-equipped kitchens with full-size appliances. The property includes a guest laundry, a fitness area, and an outdoor pool with a barbecue patio.
The impact of the property's design on day-to-day operations of the facility was taken into consideration by all of the design professionals and project managers involved in the project, resulting in a high performance green building. The project is currently performing 27% better in energy usage and is on track to use 30% less water than other comparable hotels. These accomplishments were achieved by using energy efficient practices such as LED lighting and water-efficient plumbing fixtures.
Other considerations that are contributing to the sustainability of the property include a solar study that was performed during the design phase and the inclusion of electric vehicle charging stations.
Green Globes is an online assessment protocol, rating system, and guidance for green building design, operation, and management. Federal governments in the U.S. and Canada endorse the use of Green Globes for high-performance and sustainable buildings.
DesignCell Architecture is a nationally recognized leader in the design of hospitality projects and is on Hilton's recommended list of design professionals. As a full-service architectural firm, DesignCell provides efficient and comprehensive design solutions for branded, soft branded, dual-branded, and prototypical hotels. We strive to deliver thoughtful designs that drive brand loyalty and memorable guest experiences.
The project is expected to be completed in early 2023.