Project Management from Start to Finish: A Panel Discussion
September 28, 2023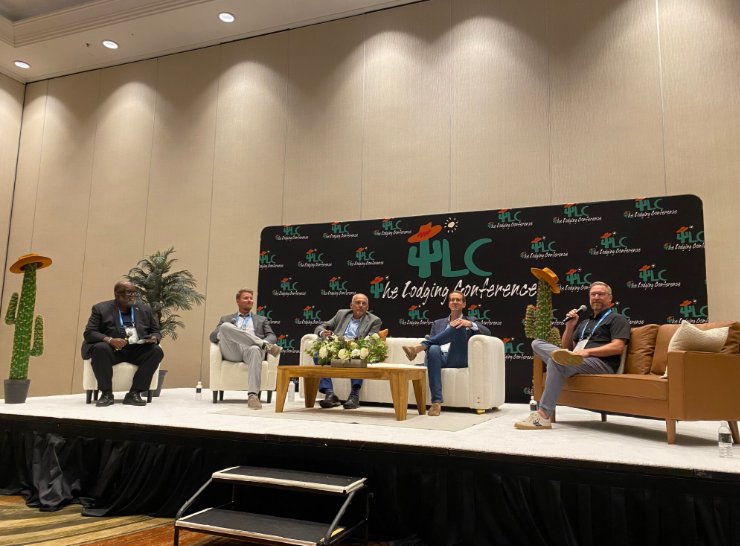 DesignCell Principal Architect, Scott Brown,  joined several other industry experts for a Think Tank panel discussion on Project Management at The Lodging Conference 2023, which was held from September 18-21 at The JW Marriott Phoenix Desert Ridge Resort & Spa, Arizona. 
Scott and his fellow panelists discussed ways for development teams to streamline projects and maximize efficiency by avoiding costly mistakes, managing the supply chain, and keeping construction on track. Below are several of the questions and answers that were covered during the Think Tank.
1. What are the key bottlenecks or challenges you've identified in the current project management process, and what steps do you propose to address them effectively?
A:  We typically see projects delayed or put "on hold" for the following reasons:
Building permit expiry and inaction

Neglect of pre-requisite approvals

Lack of information and decisions from ownership

Accountability through communication
To avoid these issues, we address them not only in meetings but also by documenting them in our project documents, meeting minutes, and weekly status reports. This serves as a constant reminder to owners and helps keep all stakeholders accountable for their own responsibilities.
2.  How do you ensure effective communication and collaboration between different teams and owners throughout the project's lifecycle, and what strategies do you use to minimize miscommunication and delays?
A:  Advancements in recent technology have significantly enhanced our ability to engage in remote meetings. We capitalize on this to streamline our processes. Our approach entails preparing dedicated review meetings for each project milestone, keeping them to a minimum while also conducting frequent coordination sessions (as required). Our communication channels span meetings, phone calls, and online conferences. Whether in-person or virtual, these communications are documented in written form and shared with everyone involved in the project.
In addition, a complete coordination review is conducted at each phase of the project, and another comprehensive assessment is performed at the 50% completion mark of construction documents. 
Cloud-based technology also gives us real-time visibility into the project and helps to address any potential conflicts swiftly. 
Finally, we utilize clash detection at the 90% project completion juncture to identify and rectify conflicts that may arise between various disciplines.
3. In terms of project planning, what methodologies or tools do you find most effective for estimating project timelines and resource allocation? How do you manage to adapt to changes and uncertainties during the project execution?
A: We employ a project schedule bar chart that spans the entire duration from project commencement to the finalization of construction documents. This chart is instrumental in judiciously allocating resources and monitoring their utilization. The management of uncertainties is approached on a case-by-case basis, due to the dynamic nature of projects. A prime example is when factors such as a hold on Planning approval or the owner's decision to pause the project due to cost considerations come into play. 
Central to effective project management are well-structured schedules and open channels of communication that engage all relevant parties. Ensuring a comprehensive written record for every interaction remains a cornerstone of our process. Flexibility in adapting to uncertainties and changes is achieved by working with the existing information at hand, while maintaining clear and transparent communication with ownership. This ensures that when new situations or information emerge, all parties involved are on the same page, ready to pivot and accommodate the evolving landscape—even if this occasionally means extending timelines.
The architect's contribution involves providing a sheet index that outlines the progression of sheets across the various phases: to be started, in progress, and completed. This spreadsheet is accessible to the entire team, allowing collaboration and aiding in effectively tracking deadlines according to the project schedule.
4. How do you encourage continuous learning and improvement within the project teams? What measures are in place to capture lessons learned from past projects and apply them to future ones?
A:  Our team convenes on a weekly basis for meetings that serve as a platform to review the redlines annotated on Bluebeam Studio, our project collaboration platform. This allows the project manager to promptly spot construction issues that may arise during the project's construction phase. As projects near their completion, we compile a "lessons learned" document specific to each undertaking. This is a precursor to our post-project debriefing report, a vital component of our continuous improvement process.
The debriefing report is shared among the team to generate discussions amongst team members and project managers. This collaborative approach serves to refine our project quality, enhancing the design for subsequent endeavors. By fostering team meetings and ensuring universal access to pertinent information, we promote a culture of active engagement, enabling our team to consistently learn from each other's tasks.
Equally significant is the practice of sharing critical insights gained from these discussions with the owner/contractor during meetings with our office team. This proactive exchange of knowledge not only equips them with a deeper understanding of the nuanced challenges at hand, but also arms them with more effective problem-solving strategies tailored to the unique conditions of the project.
5. How do you approach risk management in construction projects, and what strategies do you employ to identify potential risks early on and develop contingency plans to mitigate them?
A: Crafting comprehensive construction document sets is imperative to a thorough approach that leaves no room for omission of essential details. It's crucial to furnish detailed notes, specifications, and all requisite information directly on the plans. This meticulous approach empowers everyone involved to decipher the intricacies solely from the document, thereby minimizing the need for incessant Requests for Information (RFIs).
The crux of effective project management lies in the diligent documentation of conversations, meetings, and the commitment to maintaining rigorous document control. This practice plays a pivotal role in risk management, fostering a solid foundation that guards against potential pitfalls and uncertainties.