Celebrating the Opening of the Hampton Inn & Suites in Lake Tahoe
September 07, 2022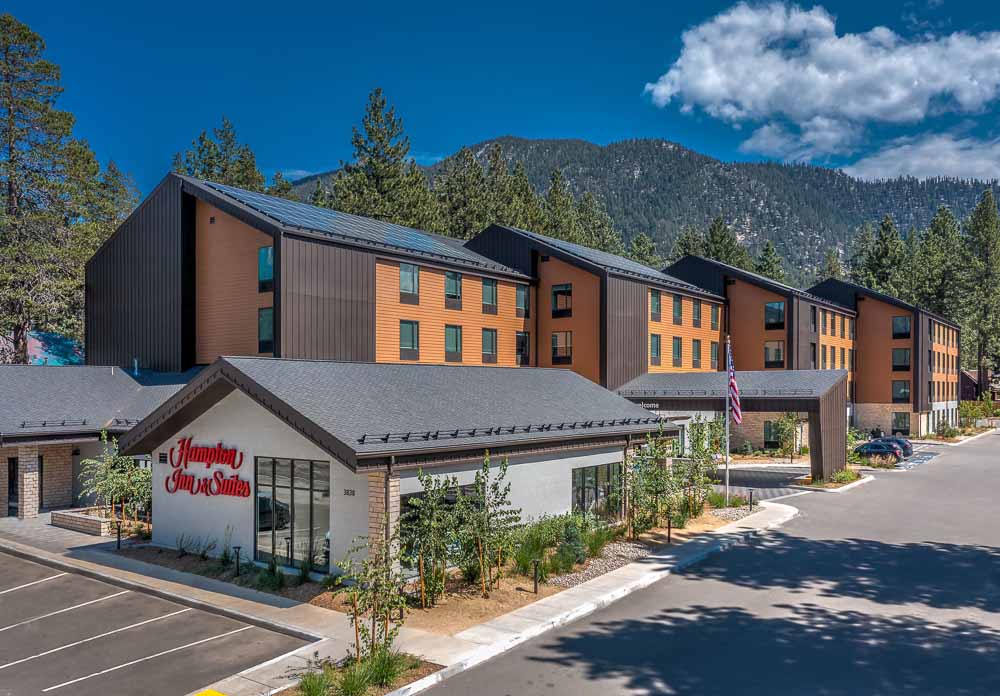 We are excited to announce the opening of Hilton's Hampton Inn & Suites South Lake Tahoe. DesignCell Architecture designed the 79,000 square foot hotel, which is located in beautiful Lake Tahoe, California on Lake Tahoe Boulevard. The hotel opened in June 2022.
This 4-story, 120 room hotel is a welcoming gateway to the pristine nature that surrounds the lake. Custom-designed to fit the picturesque surroundings of the Lake Tahoe landscape, the exterior design of the building is adapted for high elevation snow country and to withstand cold Lake Tahoe winters. These customized features include sloped roofs for snow removal and ice and snow shields to prevent both from sliding down the roofs and injuring staff and guests. It also includes radiant heaters under the porte-cochere drive-up canopy and at the outdoor patio roof overhang as well as glass walls surrounding the outdoor patio and spa to block wind and allow the sunshine to penetrate the space for added warmth.
Situated less than a mile from the beach, five minutes from hiking trails and just 20 minutes from the ski slopes, the hotel also features a heated indoor pool, fitness center, restaurant, dining bar/lounge and a 1,785 square foot tenant space for an added amenity.
DesignCell Architecture is a recommended architecture partner in Hilton's Suppliers' Connection program. Our firm has successfully designed more than 50 hotels in multiple states including more than a dozen properties for Hilton's Garden Inn, Homewood Suites, Hampton Inn & Suites and Home2 Suites.