Celebrating the Opening of Hilton's Dual-Brand Hotel in Las Vegas – Convention Center
November 04, 2020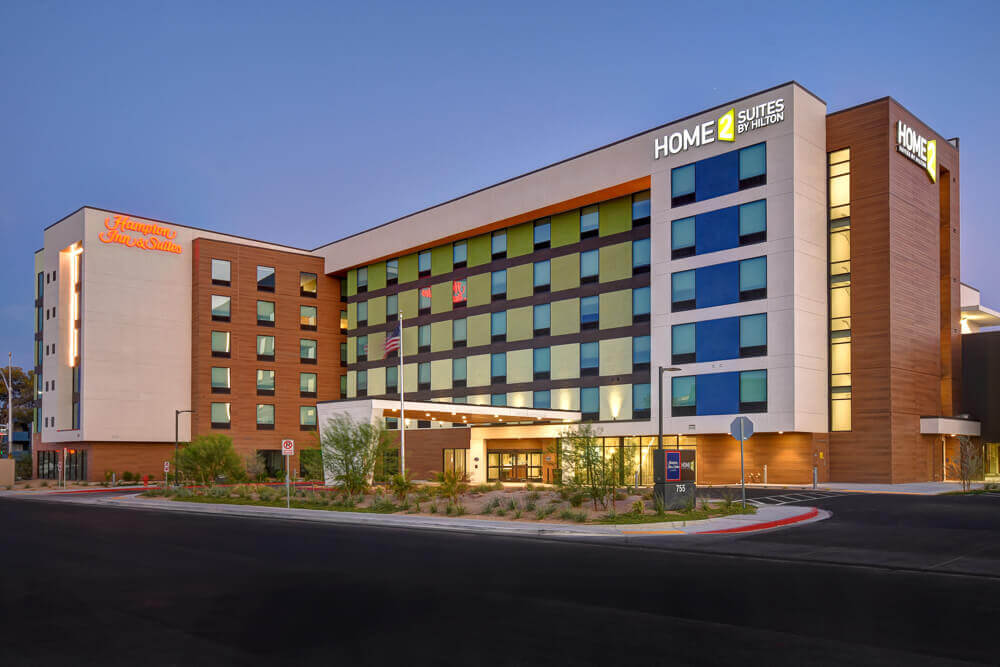 We are excited to announce the opening of the 250-key Hilton dual-brand property, featuring both a Hampton Inn & Suites and a Home2 Suites under the same roof, in Las Vegas.
The 150,600 square foot hotel provides enhanced common areas and amenities from a standard single brand property. The 150-room Hampton Inn & Suites and the 100-room Home2 Suites share an oversized fitness center, dining rooms, conference rooms, an indoor bar with lounge, an outdoor pool with bar and a three-story, pre-cast parking structure.
The combination of a Hampton Inn & Suites and a Home2 Suites enables Hilton to offer both limited service hotel rooms and extended stay room options under one roof at one great location. The combination not only offers added choice to patrons, but creates efficiencies in operations and staffing. It's all about the shared back-of-house, shared staff and shared amenities used to serve two distinct market segments.
DesignCell utilized 5-over-1 podium construction, a technique in which multiple stories of wood construction are built upon a concrete podium, to provide six stories of hotel space while staying below the high-rise requirements for the locale.
The hotel is directly adjacent to the Las Vegas Convention Center, just four blocks from the Las Vegas strip, one mile from the University of Nevada Las Vegas and approximately three miles from the McCarran International Airport.